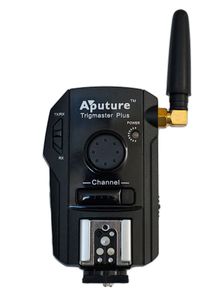 This project was born from the need to have a remote shutter release capable of performing the same functions as a universal remote, so I decided to create a small electronic circuit to be integrated into a remote control in order to extend the functions.The Trigmaster Plus II turned out great for this project thanks to the 2.4Ghz wireless connectivity, in fact, the built-in functions can be successfully activated on both the device hosting the chip upgrade and both remotely from a second remote control of the same family.The circuit is composed of a 8-pin microcontroller (the 12F675 of Microchip) and three resistors. The pcb is very small and fits perfectly into the Trigmaster, uses six channels to select shooting modes as follows:
- Channel 1 = Normal mode
- Channel 2 = Bracketing
- Channel 3 = Bulb
- Channel 4 = Time Lapse
- Channel 5 = One Shot (2 sec delay)
- Channel 6 = Normal mode
Obviously to start the function by another Trigermaster must be set to the same channel on the second Trigmaster.All functions have the possibility to adjust the duration time, in fact the function Bulb can be initiated in endless mode or with shutter speeds from 5 to 60 seconds in steps of 5seconds, while for the Time Lapse you can set a time, between one step and another, ranging from 1 to 15 seconds. It 'also possible to vary the number of shots in the bracketing function, the default is 3 scati but you can deploy up to 11 shots.
Coming soon:
This will add a shooting mode via external sensors using the jack PC SYNC.
- Light sensor
- Sensor sounds
- IRDA sensor
Electrical circuit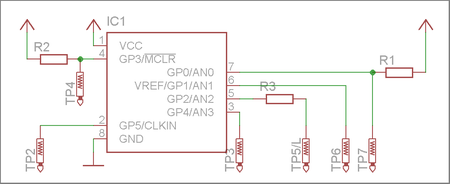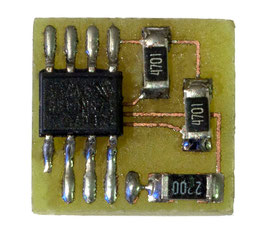 All the material in order to achieve the DGV UGC (diagrams, HEX files, PCB, material list, instructions) are available in the Download section.